Genre: Time Travel and Mystery/Detectives
Release Date: January 17, 2023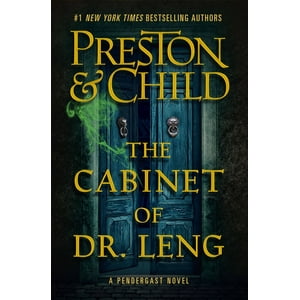 One thing always stands out to me when I'm reading a Preston & Child novel. The imagery is mesmerizing. The last time I felt so absorbed in the gritty, filthy street in the past, I was playing a video game as Sherlock Holmes or Watson, depending on the section of story.
As Constance scoured the NYC streets with her helpers, I couldn't feel like I was part of the group, smelling the smells, feeling the drafts and damp. I was hooked.
The Cabinet of Dr. Leng starts in the past with Constance Greene having time traveled to save her brother and sister and stop the notorious killer Dr. Leng. Doing so puts her own life at risk. Meanwhile, Special Agent Pendergast is stuck in present time trying to figure out how he can rescue Constance when they're centuries apart. If he's unsuccessful, Constance may never come back to his time.
In the past few years, I've become hooked on Sherlock novels, and something about this one gave me that same feeling while reading it. But, it's more like take Agents Scully and Mulder in terms of expecting the unexpected, add the wit and charm of Sherlock Holmes and Dr. Watson, and scramble them together into a mesmerizing time travel mystery.
I should use more caution when picking up books that are part of an established series. While I easily caught up to the gist of things, I wish I'd read the books in order and not just a few here and there. My recommendation is to read the series in order.