Release Date - March 21, 2023
Genre - Contemporary Romance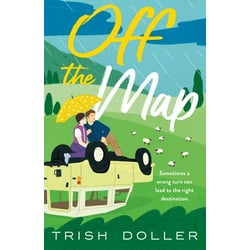 I don't often want to give a book five stars, as five stars means perfection and very little is perfect. This is pretty close to perfect so five stars it is.
Carla Black's mom walked away when she was little, and her dad died everything to be the best dad possible. Together, the pair explored the U.S. in her dad's Jeep, fixing it when necessary. But, he has dementia and is ready to slow down and move in with his significant other. He has one wish. Carla is to keep exploring.
It's with that nature that she happens to be in Ireland for her best friend's wedding. The groom's brother is tasked with picking her up at the airport and driving her to the town where the wedding is taking place. But, Carla's adventurous spirit appeals to Eamon, so the pair make quite a few detours on the way. It's during those details that they start to fall for each other, but Carla is not the settling-down type, so she cannot possible have a future with a guy, especially one who lives on the other side of the pond.
I have been battling COVID for the first time and struggling to do much of anything. Enter a sunny, warmish day and a comfy seat set up on our front deck. Kudos to my husband for digging out the lawn chairs a little early.
I sat outside enjoying the warmth of the sun and completely got lost in Trish Doller's Off the Map. This book was everything I needed. There was humor, gorgeous scenery, likable characters (I mean who doesn't want an Eamon in their life???), and such an amazingly enjoyable couple of hours spent mentally roaming Ireland's scenery.
Now, there is another aspect of this story that I feel needs mentioning. Carla's dad has Alzheimer's. I have taken that journey through my mom's eyes and it's not easy. Carla's dad had me crying frequently as it was so well-written and personal to me. I say this. It's not a failure to walk away and live your life.
Parts of me wishes I had done more for myself rather than spend most weekends balancing my time between my parents, my kids, and my spouse. When my dad died and my mom needed more care than we could manage, I was still the one getting the midnight calls that she was unruly and I needed to drive to the assisted living community to calm her down. It's exhausting.
As a side note to the author and anyone else helping a parent with dementia, the beer topic that came up. Carla's dad used to join her for a beer and conversation. Here's a tip. You don't have to let Alzheimer's and other meds stop that. I found with my mom that she was fooled by Lagunitas Hoppy Water. She tasted the hops, felt it was a beer, and I could serve it in a colored pint glass so she never knew the difference and she could have as many as she wanted. Many other companies are jumping on the hop seltzer bandwagon, and I highly recommend this as a substitute for beer.