Release Date - July 11, 2023
Genre - Future, Suspense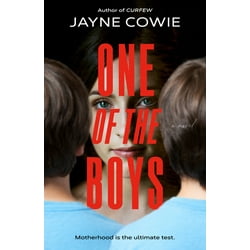 In a future time, scientists have found a genetic marker that indicates if a boy will become a criminal or not. If a boy is found to have this gene, he can be separated from the others to find the right medications and teachings to keep him from becoming bad. Screening starts off voluntary, but it's soon expanded to became mandatory for certain things.
Bea and Antonia had boys around the same time, but the sisters' experiences and lifestyles are completely different. Antonia is the dutiful wife and social climber and has her son tested. Bea refuses, despite Antonia's constant pleas. As the boys age, it becomes clear that one of them is normal and one isn't, and the boy's mother will do anything and everything to keep him safe.
Bea is the more likable sister in this book. Antonia and her social status helped make her unlikable. The story moved swiftly, and there are side characters I liked even more. As the story reaches the final moments, a secret is revealed. Part of it I saw coming from the start, part of it is something I figured out halfway through the book. It adds tension.
There are times I started to wonder about the author's message. Was this an anti-COVID vaccination allegory? I couldn't be certain, but I almost started to wonder if it was. And, that's where I'd have to agree as the polio vaccine was also once new and stopped a crippling disease until parents stopped following doctor's recommendations on vaccinations. In 2022, there were 30 positive polio tests in the U.S. Any book group could ponder this question together.