Release Date - June 20, 2023
Genre - Psychological Suspense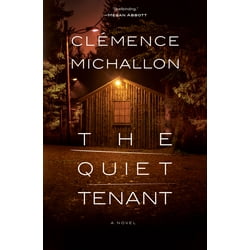 This is an extremely gripping debut from French author Clemence Michallon. It begins with the women in the shed. She's been held captive by a loving husband and family man, and she's playing the ultimate game to stay alive. She needs to do everything there is to stay alive.
Aidan Thomas is the hero of his town. People love him, but they have no idea he's a serial killer. He's killed eight women and was on number nine when he made the sudden decision to keep her. When his wife died of cancer, he was forced to move his daughter, Cecelia, to a new home, and he agrees to let Rachel, the woman in the shed, move with them. She'll be chained in her room at all times other than family meals.
Then, there's local restaurant owner Emily. She can't help but be attracted to this mysterious man and wants to get to know him better. The closer she gets, the more she realizes there's something not quite right.
The Quiet Tenant is told from Rachel, Cecelia, and Emily's perspectives. It's a gripping tale where you're on the edge of your seat wondering when Rachel will take her chance. Her careful plotting makes this story suspenseful. While you think you know how it has to turn out, you really have no way of knowing until the end. I loved it.