Release Date - March 28, 2023
Genre - Young Adult Fiction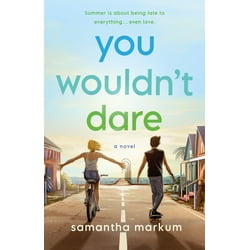 Juniper Abreheart's life has hit some turbulence, and she's not sure she appreciates it. After kissing one of her closest friends (Graham) and being part of turmoil in his life, she's not sure she can regain what she lost. Plus, Junie's mom seems to be happily moving on with her romance with a local doctor, and that doctor's daughter is little more than a pain in Junie's backside. This is not how her senior year was supposed to go.
While she tries to fix the damage she's caused in several areas of her daily routine, it's her relationship with Graham that may take the most work. But, she really wants things to go back to normal, even if it means stepping outside of her comfort zone.
You Wouldn't Dare is set in Florida. It's one of the few states I've never been to, so I can't delve into the setting this time. It seemed nice enough, though Florida isn't a state that's on my radar as a place I need to see, so I am slightly biased for that reason. I did snicker a little as Florida has been heavy in the news for book banning lately, and this is the perfect fodder as it has underage drinking, smoking, swearing, affairs, etc.
The characters are where this book lost me. I can't imagine Junie's mom thinking her daughter would instantly be an BFF to her boyfriend's daughter or that moving in the families together would go flawlessly. Even expecting it to go over well seemed unrealistic to me. Junie was often little more than a bully. She was hard to like, especially when trying to get others to do what she wanted. It took awhile before I could see any redeeming qualities in her.
In the end, it was just an okay read. It didn't make me feel like I urgently needed to sit down and finish it in one sitting, but it was appealing enough that I at least wanted to see how it all played out.